The automotive industry is focused on the production of a vast variety of vehicles – internal combustion passenger cars, commercial vehicles, light trucks, hybrid, electric, autonomous, or big 18-wheelers.
Its development is sometimes mind-boggling and employs each year more and more people – not only in Europe or Northern America but all over the world.
Taking in mind the speed of growth and its directions – it is worth looking into the drivers of that change and elements that can help it to grow even more.
What is the automotive industry?
The automotive sector (car industry, automotive industry interchangeable) is an umbrella name for many smaller industries focused on the production, development, and assembly of car-related parts and services.
That includes production plants focused on the production of bodies or turning pistons, electrical battery assembly, and sales of vehicles.
The automotive term is a combination of two words: Greek autos (independent, self-reliant) and Latin motivus (movement).
Combined is a perfect description for the car industry.
That area of business develops from the verge of the auto industry but as an author of that term many points Elmer Sperry, an American inventor.
He called all car-production-related businesses by a combined name: the automotive industry.
For the times of revolution of the motor vehicles (late 19th century) – it was a cutting-edge conception.
It is worth mentioning the whole auto industry is a broad term that includes production, assembly, services, or marketing – all related to vehicles.
Sometimes the connection is less than obvious and combined with diversification, common outsourcing, and significant computerization of cars – it is safe to say that almost everyone has, has, or will have some professional connection to that industry.
Directly and/or indirectly.
It is safe to say that the automotive industry includes businesses like:
automobile manufacturers (eg. Ford Motors, the first mass-producer of vehicles) and assemblers,
car parts manufacturers (eg. automotive engines),
spare parts manufacturers,
seats and internal accessories producers,
tires manufacturers,
producers of a vast variety of polymers and composites,
refineries focused on the production of gas and oils (eg. for engines),
designs manufacturers,
(car) batteries production plants,
a vast variety of electrical elements manufacturers,
marketing agencies that promote,
dealerships and services,
insurance companies,
and many, many more.
One thing is certain – the automotive industry (as a whole) is one of the biggest businesses in the world, but contrary to other areas it is changing and developing fast.
That thesis confirms the statistics of a manufacturer of cars – from the 80s (excluding the financial crisis time from 2008 to 2010) the number of sold cars worldwide increased and/or remained very high (like during COVID).
Such trends present many possibilities and challenges for the whole industry that should be addressed by vehicle manufacturers.
Some by optimization of the supply chain, others by outsourcing production.
It is worth mentioning the growth in that industry is also stimulated by the increase in car amounts worldwide.
Each car – sooner or later – needs spare parts, repairs, or simple things like new tires.
Biggest companies in the automotive industry today
According to the data from 2017 the biggest companies in the automobile industry are (according to the yearly production numbers):
Toyota – 10.5 mln vehicles manufactured,
Volkswagen Group (VAG; Volkswagen, Audi, Skoda, Seat, ets.) – 10.4 mln,
Kia / Hyundai – 7.2 mln,
General Motors (GMC, Cadillac, in that time – also Opel) – 6.9 mln,
Ford Motor - 6.3 mln,
Nissan – 5.7 mln,
Honda – 5.2 mln,
FCA (Fiat Chrysler Automobiles) – 4.6 mln,
Renault – 4.1 mln,
PSA Groupe (Peugeot, Citroen, before obtaining Opel) – 3.7 mln.
Although these data can suggest that most of the production is from the Far East (Japan, South Korea, China), that data only highlights automotive brands' countries of origin.
Manufacturing/assembly-wise – car plants are all over the world.
This is one of the most fascinating facts about the automotive industry: diversification and optimization of the production process that is followed by spreading assembly plants all over the world.
It is perfectly visible when we divide the production of vehicles (internal combustion, electric) into countries:
Germany – 23% of cars are assembled in that country,
Japan – 13%,
United States of America – 9%,
Canada - 7%,
United Kingdom – 7%,
South Korea – 6%,
Spain – 5%,
and – for scale – Poland – 0,75%.
Such diversification between countries creates new jobs in local areas and can lead to significant decreases in manufacturing costs.
For example – the logistics behind moving big amounts of vehicles between countries can generate many types of costs.
Among many – cost of transport or damaging body.
Does the automotive industry focus only on vehicle manufacturing?
The short answer is no, not only.
The whole industry focuses on the one hand on vehicle parts production and assembly; on the other – it is everything related to cars, from spare parts to marketing. It is worth mentioning – the currently more suitable name for 'vehicle production' is 'vehicle assembly'.
Cars and trucks are assembled from parts moved from all over the world, in particular factories/lines.
That is why headlights in a local press more often inform us about the 'opening of the new assembly line' than the 'new car factory'. The main cause is of course cost and its optimisation.
It is easier to assemble vehicles locally with locally machined and produced parts, according to the company specs, than move big containers of elements or assembled cars all over the world. The cost of transporting such goods can be significant and such a solution can lead to many savings and decrease the overall cost.
That is why many foreign brands have their assembly plants in Europe (eg. Toyota in the UK, France, and Portugal), often specializing in the assembly of one type of vehicle.
Such a move creates new jobs locally and can have a strong (usually: positive) impact on the local society fabric. From the automotive brand perspective: that eases logistics and delivery of cars to dealerships.
On top of that local manufacturing of body panels, engine blocks, or interiors can change whole regions to 'the automotive' ones. For example, the Wolfsburg region in Germany is focused on the assembly VAG group cars and the manufacturing process of parts for these vehicles.
For many years Detroit was considered 'THE' car city, due to the presence of 3 main USA car companies: Ford Motors, Chrysler, and General Motors.
It is worth mentioning – such production plants, focused on manufacturing, are highly specialized and require high-class specialists.
That also stimulates society to achieve new competencies.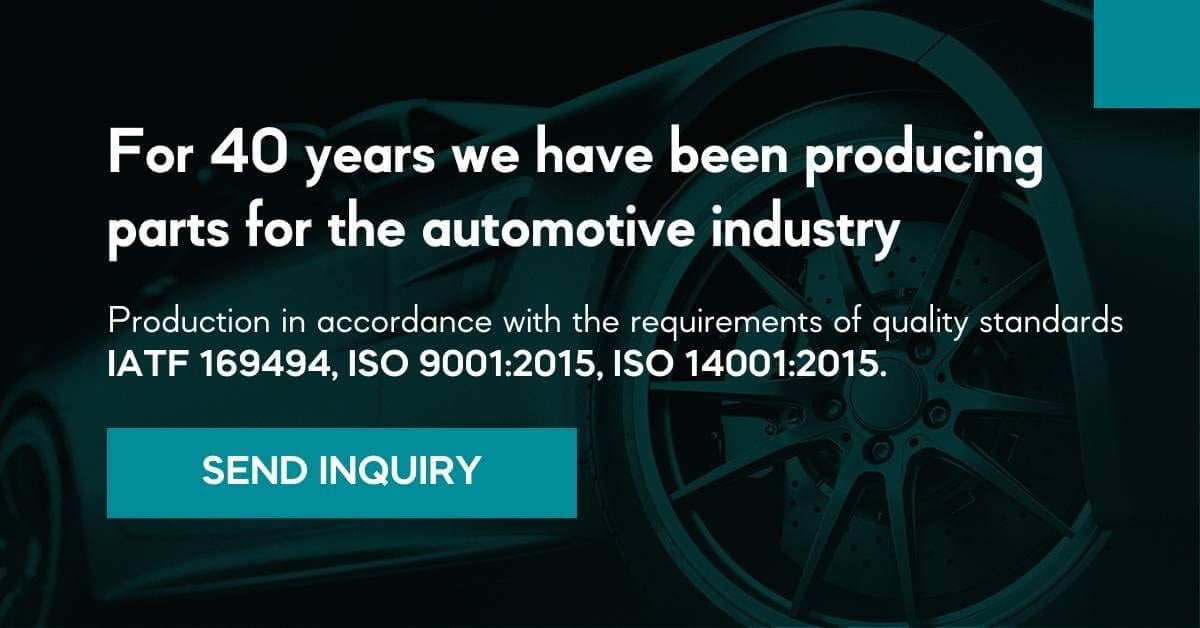 What are the new trends in the automotive industry?
The main trends in the contemporary car industry are for sure electrification and the struggle toward decreasing emissions (especially in Europe where the Euro 7 norm and following regulations will be connected to the in-depth changes).
Although challenging for the manufacturers, new and more restrictive norms are pushing research and development departments even further, such change can affect even more efficient and ecological solutions.
Thus – the development of the whole industry.
The changes in the structure (eg. an increase in the share of hybrid and electric vehicles) expanded what we understand as an 'automotive industry'. Not so long ago – it was 'everything related to the internal combustion engines'; today – includes almost everything electronic.
The contemporary auto industry equally needs mechanical (eg. engine blocks, car frames, wheels) and electronic parts (eg. chips, displays, controllers, haptic panels, touch screens). That trend changes the manufacturing itself and parts producers need to catch up with such.
Other important trends in the industry are autonomous vehicles and 'augmented reality' inside a car or a truck (eg. HUD displays).
Lane assistants, built-in radars, and lidars are inseparably connected with the computerized controlling units. The goal of such technologies is an increase in driver, passenger, and pedestrian safety.
Although this is another example of sci-fi tech, such solutions are strongly connected with the contemporary automotive industry in the middle of the fourth industrial revolution.
In other words: our 'now'.
How have CNC technology, manufacturing outsourcing, and logistics optimization changed the automotive industry?
Mass production of cars and trucks was (and still is) a big challenge. Solutions created and developed in first vehicle assembly lines (Ford) are the foundation of the contemporary automotive industry.
One of the keys to even further optimization of that process was manufacturing outsourcing and changing focus from the production of every part to efficient assembly. That shift was the first significant revolution in the automotive industry.
Another 'revolution' is strongly related to the invention of CNC machines (numerically controlled) – that technology pushed the production of car parts even further.
CNC turning pistons, CNC milling of engine blocks, CNC machined car frames or turning wheels and transmission housings – these are only examples of change that speed up car assembly and parts manufacturing.
What is even more important – is that technology applies to almost any area of the automotive industry and helps to find more efficient solutions.
Combined with outsourcing (in other words: why does the assembly plant need to produce parts if that can be ordered in a CNC factory nearby) CNC machining help to make a profit and speed up production.
Automotive companies get locally sourced/produced parts without the additional cost of logistics; local CNC factories can produce parts more efficiently, with negligible tolerances and according to the specs.
Often: due to the professional approach to the machining process – offer good prices.
Looking for an automotive parts manufacturer? - You're in the right place
At RADMOT, we can offer CNC milling services, CNC turning services as well as many additional services, including washing, aluminum anodizing, laser marking and assembly.

Contact us and tell us what you need. We have been providing CNC services for 40 years. Our quote is completely free. And if you are in doubt about which technology will work best for you, we are able to advise customers from many industries on machining and quickly determine the price of machining the parts you order - our expertise is at your disposal.